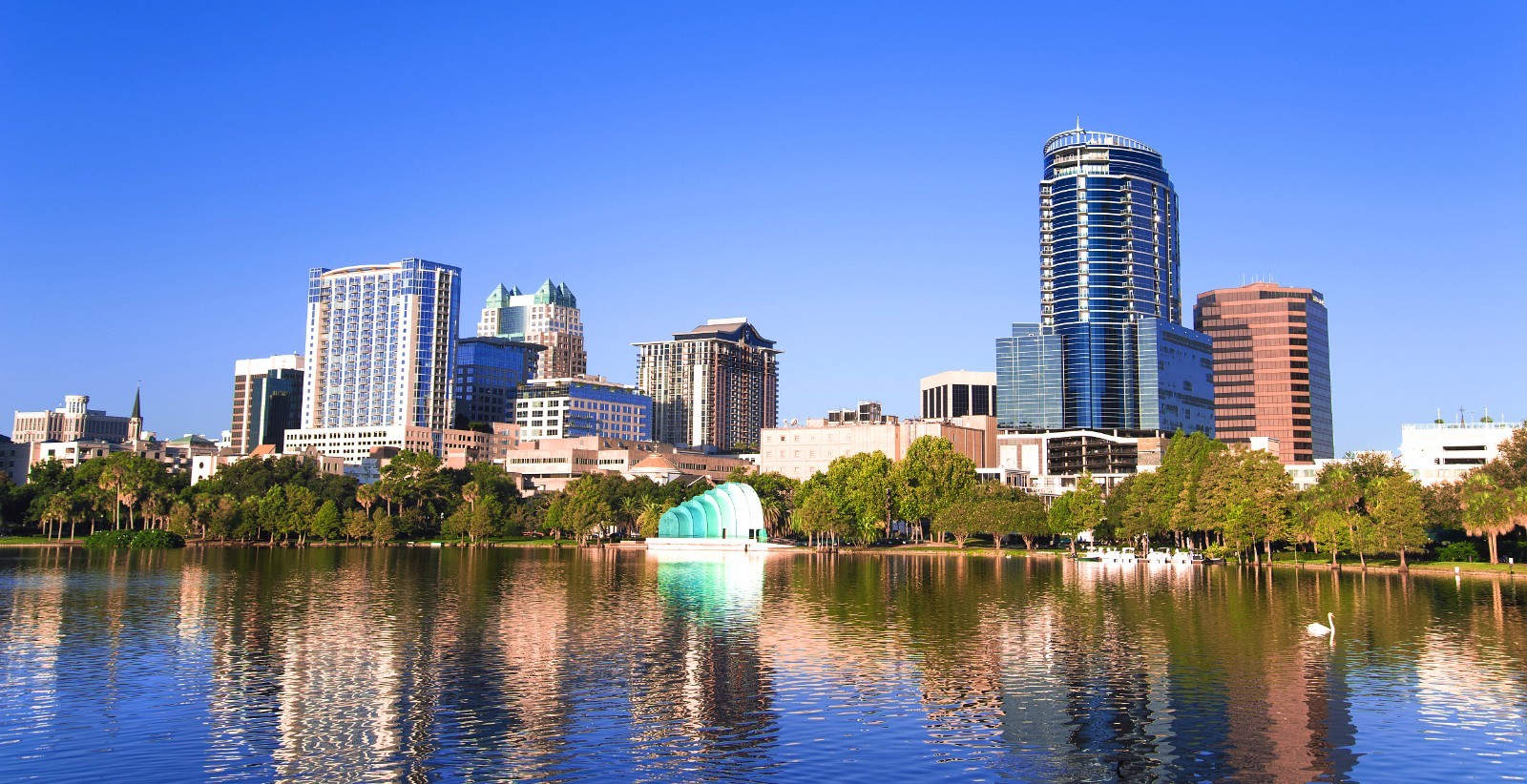 Orlando é o paraíso das compras, o coração dos parques temáticos e a capital do divertimento, certo? Pode-se dizer que sim, mas a verdade é que a cidade é muito mais do que isso. Downtown Orlando, por exemplo, costuma ficar de fora dos roteiros turísticos clássicos, por isso muito visitantes simplesmente não conhecem esse lugar tão especial. E não sabem o que estão perdendo. Veja por que vale a pena conhecer melhor Downtown Orlando.
Downtown Orlando: um centro da cidade pacato e arborizado
Downtown Orlando é o centro da cidade, sim, mas provavelmente de uma forma que você não está habituado a ver. Como todo âmago comercial e financeiro, tem alguns grandes arranha-céus que abrigam bancos e escritórios, mas um
Apesar disso, Downtown Orlando é um lugar arborizado e relativamente calmo, perfeito para longas caminhadas com paradinha estratégicas em lojas, bares e restaurantes.
Mas se a ideia não for caminhar, não tem problema. O Lymmo é um ônibus gratuito que leva você pelos principais pontos de interesse em Downtown Orlando.
Um centro bem pertinho da natureza
Agora imagine um grande lago repleto de cisnes e com margens arborizadas em meio a tudo isso: é o Lake Eola Park. Passear pelo calçadão ou deixar o tempo passar lentamente enquanto anda de pedalinho é imperdível.
Mas fique atento. No Lake Eola Park tudo pode acontecer – de um verdadeiro balé de águas cheias de cores e formas no chafariz central a shows musicais ao vivo. Afinal, é lá também que fica o Walt Disney Anphitheater e volta e meia rola um evento da melhor qualidade.
Merece destaque também o Harry P. Leu Gardens, um lugar enorme e lindo, repleto de espécies super bem cuidadas. Uma das atrações é o roseiral, o maior de toda a Flórida. Além de aproveitar a paz local, vale uma visita guiada pela Leu House do século XX.
História e arte em Downtown Orlando
Vale a pena saber como Orlando se tornou a potência que é hoje. Além dos parques temáticos famosos em todo o mundo, a cidade concentra muitas oportunidades de negócios. Isso faz com que receba milhões de visitantes durante todo o ano, impulsionando cada vez mais o próprio mercado imobiliário.
Para conhecer como essa verdadeira indústria foi criada e desenvolvida, a dica é ir ao Orange Country Regional Center, lá mesmo em Downtown Orlando. No local está tudo registrado de forma super interessante, desde a chegada dos primeiros moradores até o início dos parques de diversão.
A arte também está presente nas ruas de Downtown Orlando, mas é no Orlando Museum of Art que você vai encontrar a sua união com a história norte-americana. O local, imenso, reúne exposição fixa de obras conceituadas e mostras itinerantes. E, se for quinta-feira, aproveite, para passar o dia. Há sempre um show que acompanha bebidas a petiscos deliciosos.
Orlando Science Center: tecnologia para divulgar a ciência
Os muitos setores do Orlando Science Center é um lugar perfeito para toda a família. As crianças, em especial, vão ficar encantadas com os efeitos tecnológicos usados para falar sobre o corpo humano, História, natureza e muitos outros temas.
E não é para menos, afinal o lugar investe pesado tecnologia para criar interatividade com os visitantes. E aqui vale uma dica: nas noites dos finais de semana é possível observar as estrelas através de um super telescópio.
Aproveite a night de Downtown Orlando
Já que falamos em noite, a night em Downtown Orlando é mais um bom motivo para conhecer a região. A Church Street, por exemplo, é um verdadeiro reduto de bares, restaurantes e pubs, sempre com apresentação de bandas.
Outra opção é o Mad Cow, um teatro super diferente, que atrai uma pequena multidão nos finais de semana. Já a Amway Center Arena sempre recebe algum artista famoso.
E, durante o dia, a Church Street também não para. Além das muitas lojas de rua, a Church Street Station reúne mais lojas, bares e restaurantes em três andares de badalação.
Se a ideia for arrasar na balada, você está no local certo. Downtown Orlando abriga algumas das melhores clubs e casas noturnas da cidade, como Firestone, The Social, Tap & Grid, The Lodge, Oblivion e o famoso bar Sky 60.
Como fica tudo pertinho, nem é preciso escolher muito. Junte os amigos e fique um pouquinho em cada um, fazendo um verdadeiro rodízio de alegria e diversão.
Viu como vale a pena conhecer Downtown Orlando mais de perto? Assim você aproveita muito mais suas férias com programas que vão muito além das compras e dos parques temáticos!
A Legacy Plus Realty tem o imóvel perfeito para você aproveitar suas férias ou se mudar de vez para Orlando. Descubra aqui sua vacation home ou converse com um dos nossos consultores e descubra todas as facilidades de comprar um imóvel na Flórida!